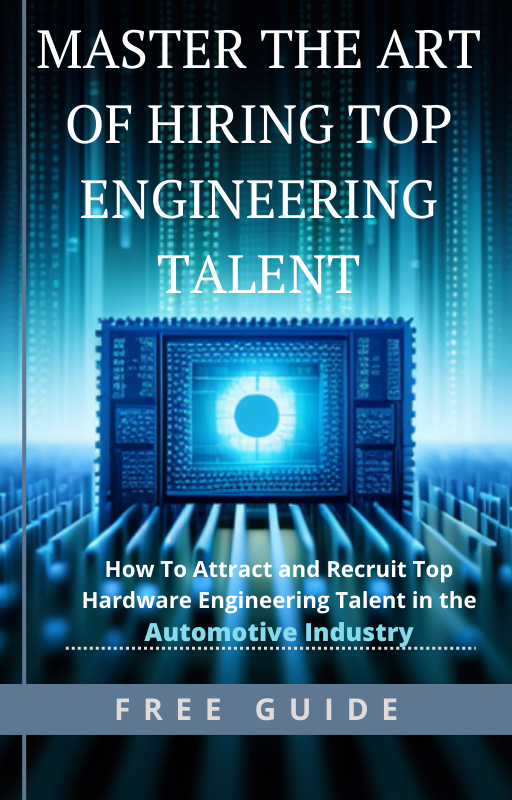 In the rapidly evolving world of automotive electronics, you're not just hiring engineers - you're assembling a team of trailblazers. With each passing day, the complexity of automotive electronics amplifies, the push for safety-critical and high-performance components escalates, and the need for cost-effective solutions intensifies. Sound daunting? It doesn't have to be.
As industry leaders, we at TeamUP understand the intricate matrix of challenges you face. From navigating the scarcity of skilled silicon hardware engineers to integrating cutting-edge technology, from fostering seamless interdisciplinary collaboration to designing robust cybersecurity measures, the hurdles are manifold.
Enter our eBook: "How to Hire Hardware Engineers in the Automotive Industry". This comprehensive guide was conceived and crafted with the precise needs of engineering managers and directors like you in mind. It's a roadmap that distills our years of expertise, providing actionable insights to overcome your hiring hurdles.
Expect to uncover:
Strategies to attract top-tier talent adept at handling the increasing complexity of automotive electronics.

Techniques to streamline your hiring process, pinpointing professionals well-versed in safety-critical system design.

Tips to identify engineers capable of designing high-performance, cost-effective components, even amid talent scarcity.

Guidelines to foster a culture of innovation, helping your team stay ahead in the fast-paced automotive industry.

Ways to foster effective communication across disciplines, promoting harmonious and productive collaboration.
Struggling to find the right engineers to drive your automotive projects? You're not alone and we're here to help.
Imagine a world where project delays are a thing of the past, and you have the perfect team to steer your projects to success. This doesn't have to be a fantasy. With our free eBook, "How To Hire Hardware Engineers in the Automotive Industry," transform your hiring approach and build your dream team. Your extraordinary journey begins here. [Get Your eBook]